FAQs
Problems getting internet access or email.
Turn everything off, computer, Cable/DSL modem, and router/firewall.
Turn on the Cable/DSL modem first, wait 30 seconds, then turn on the router/firewall.
After 30 seconds turn on the computers.
Problems with machine slowing.
Run a defragment on your system.
Install and run spyware/adware removal software. Link on downloads page.
Stop unnecessary programs from running when your computer boots up. BE CAREFUL this can cause issues if you eliminate the wrong items.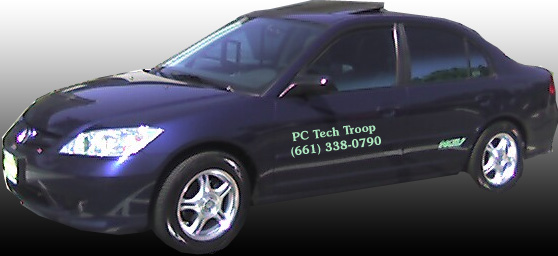 Our mission has always been to provide quality and value in the area of technology consulting with complete customer confidence and satisfaction.
Our focus is toward helping your business run efficiently and effectively. Unlike most formal consulting firms, we have the ability to mesh with our clients to provide a comfortable relationship filled with trust and understanding. This is often realized within the first few visits. You will find our concerns for your business are as if we were in business with you. Don't take our word for it; just review our testimonials page. It is important that our customers are completely satisfied and that can be seen by the fact that we have not done any advertising for over a decade at our Los Angeles and Orange County locations, but we keep busy by mainly relying on repeat and referral business.
Green and Clean
Our commitment to our clients, America and our planet:
We are proud to announce our move to improve. In our goal to improve our quality and value with our service, we have created other benefits for our country and planet. The rising cost of fuel and increased traffic has placed additional stress on our ability to keep from passing along these rising costs to our clients. In March, 2005 we implemented three major advances to provide even better service to our valued clients. These include: new mobile equipment that allows us more efficient ways to be notified of your need for help; additional remote access solutions to cut down on timely and costly on site visits when they are not necessary; the addition of a natural gas powered service vehicle to keep transportation cost as low as possible, and reduce travel time due to carpool lane access available for this type of vehicle. These new implementations not only benefit our clients financially, but help to reduce the time we spend on the road cutting down traffic, reducing pollution and our reliance on foreign fuels. We do wish to apologize to the oil barons, and suggest you invest in natural gas and other alternate fuels.
We will continue to re-evaluate our business to provide improved efficiency to everyone and truly appreciate your input. This will help us in our pursuit to provide everyone with the best possible service.
Thank you,
Daryl Posner